Product Description
Perfect Fitment. The Windshield CrossLink Lightbar Kit for the 2021+ Ford Bronco from Diode Dynamics allows you to mount seven linked SS5 LED pods above the factory windshield. These application-specific brackets were CAD-designed to bolt into place using factory mounting points above the factory windshield. No cutting or drilling required! 
Designed for Performance. Featuring the highest output intensity of any 5-inch LED pod on the market, these auxiliary lamps have been designed for maximum functionality, with patented technology and custom-engineered TIR optics, all in a durable package.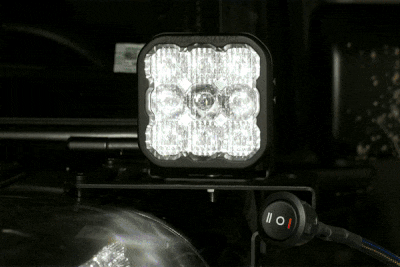 Selectable Backlight. The Stage Series 5" LED Pods included in the White kit feature a selectable backlight with eight different color options, perfect for an extra styling accent, or for more visibility when you're not using the main beam. Selecting your backlight color is easy - simply alternate the power on and off. There's no complicated programming with a controller! The SS5's backlight fully illuminates the TIR optic, providing unique accent lighting that you won't find on other LED pods. NOTE: Due to the yellow lens, the Yellow kit is only available with an Amber backlight color.
CrossLink. Our patent-pending CrossLink technology allows you to link the seven SS5s included in this kit together to create a single lightbar. Unlike other options on the market that use multiple pieces to link pods together, we have designed a single-piece CNC aluminum link. This provides extreme rigidity, but is fully adjustable, for both straight and curved configurations. And thanks to inset threaded mounts built-in to every SS5, there is no need to buy a special linking version of the SS5 for your setup. 
Control through OEM Aux Switches. Both kits include an OEM aux switch adapter wire that connects to the harness and allows you to control your lights using the factory-installed aux switch bank. Two switches will be used - one for the main beam, and one for the backlight. For those who don't have the aux switch bank, you will use the toggle switch adapter wire included with the harness to mount a switch. 
Functional Output. Stage Series beam pattern options were designed with advanced optical simulation modeling, to shape the output in highly-functional beam patterns with high efficiency.
Combo pattern combines both the Driving and Flood optics, perfect for all-around use. It shines light downrange in a focused 30x20 Driving beam to punch with distance, and fills in the surrounding area to create a full 70x30 degree pattern. With a row of driving optics in the middle, and a flood optic on the top and bottom, this has been designed to provide extra light for every situation.